Back in the early 90's, when Crystal Clean first started cleaning windows in Fort Collins, I had one simple goal; feed my wife, my kids and my dog. And so with an old 78' suburban, a bucket and squeegee I set out to clean windows in Fort Collins.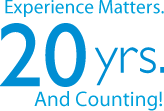 I can remember 'splurging' money and buying a 20' ladder so as to be able to expand my range of window cleaning services. Over the years I began to hone my skills as well as gain the trust of my clients.
We trained all of our kids in the craft of window cleaning. And we've strived to pass on our love of window cleaning to our children. We're proud to see them handling clients with the same care and attention upon which our business was founded.I prided myself in offering personalized yet professional service. Of course over the past 20 years our family has grown as well as the families of our clients. Most of us now not only have kids but also grandkids.
With over 20 years experience cleaning windows in Fort Collins, we still love what we do. If you would like to experience "A Better Outlook on Life" through clean windows then feel free to contact us today.
Thanks to all of our great clients!
–Tim Law
Licensed & Insured